[:es][vc_row][vc_column][vc_column_text]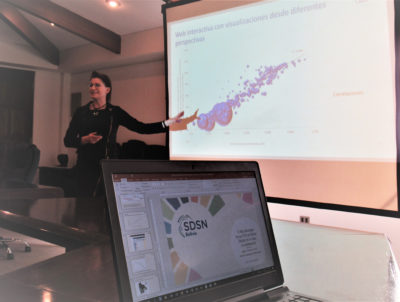 La presentación de los avances logrados en la producción del Atlas Municipal de los ODS en Bolivia ante la empresa privada, se realizó el 23 de mayo del presente año 2019 en el espacio generado por la Confederación de Empresarios Privados (CEPB) que funge como punto focal de la red UN Global Compact (Pacto Global) en Bolivia.
Las empresas privadas que enfocan sus esfuerzos en cumplir con los Objetivos de Desarrollo Sostenible relacionados a la infancia boliviana, conocieron algunos de nuestros datos sobre educación, natalidad, embarazo adolescente y migración interna.
Nos complace poder compartir esta información con el sector privado al saber que existe el interés de gestionar políticas privadas que aportarán al desarrollo integral del país.
Reiteramos nuestro apoyo a quienes se esfuerzan por cohesionar a la empresa privada en rededor de los ODS. En este caso específico, agradecemos a UNICEF Bolivia por hacer ésto y más, al haber generado una herramienta que permite al sector empresarial evaluar y mejorar sus acciones por la infancia.[/vc_column_text][/vc_column][/vc_row][:en][vc_row][vc_column][vc_column_text]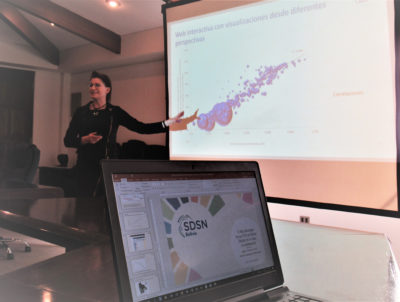 The advances made in the production of the Municipal Atlas of the SDGs in Bolivia were presented to representatives of the private sector in Bolivia on May 23rd. The presentation was possible thanks to the space provided by the Confederation of Private Enterprises of Bolivia (CEPB) who are the focal point for the UN Global Compact Network in Bolivia.
Private entities that focus their efforts in accomplishing the Sustainable Development Goals related to childhood in the country, learned about some of our data regarding education, birth, teenage pregnancy and internal migration.
It is a great pleasure for us to share these findings with the private sector, more so when we know about the existing and increasing interest to work together on the achievement of the SDGs. In this particular case, we thank UNICEF Bolivia for making this and more possible, given their hard work at creating a tool that allows private companies to evaluate and improve their actions for childhood.[/vc_column_text][/vc_column][/vc_row][:]